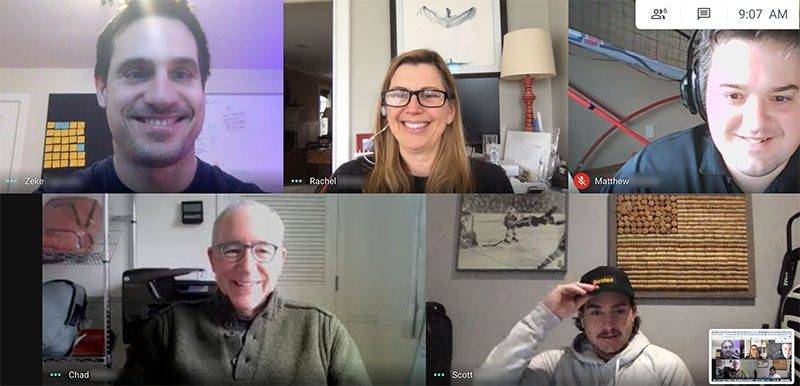 HELP CHANGE THE WAY PEOPLE CARRY THEIR LIFE

We created Knack to make it easier for multi-tasking, mobile professionals to get from Point A to Point B without lugging a bunch of bags - in other words, #OneBagLife. Our multi-purpose products combine the best features of stylish, daily-use computer backpacks with a patent-pending hidden compartment that you can easily access, expand and pack like a suitcase whenever you need extra space for travel, the gym or anywhere your life takes you. We sell our products exclusively through knackbags.com.
While the Knack team calls on years of personal experience working with brands like Tumi, North Face, Coach, Samsonite, and eBags, we think our company is unique and different. Each Knack team member is trusted with autonomy and getting the work done without micromanagement. We enjoy hanging out with each other, but we also keep meetings to a minimum. We are always looking for talented people to join our rapidly-expanding company.
At Knack, we have a thirst for change, love creative thinking, expect data-driven decisions, and believe in remote-work and flexible work hours. Knack is a fully remote company with headquarters located in Providence, RI and Portland, OR.
Digital Content Manager Job Description

We are looking for a Digital Content Manager who will create and manage compelling branded content, across a number of channels, that will engage the Knack consumer while building brand awareness. You will develop a deep understanding of our audience in order to communicate our brand story and inform our consumer with value-add content in order to drive qualified traffic to our site. As a key member of our marketing team, you will develop and implement a wide range of content for every stage of the purchase funnel across the following channels: our blog, email, SMS, Knack organic social media, 3rd party digital publishers (both affiliate and non-affiliate), influencers and traditional PR. You must be prepared to roll-up your sleeves and get the job done: Knack is comprised of make-it-happen personalities. This position will start as a full-time contractor position and could lead to full-time employment, with equity participation, in the first half of next year.
Knack is a fully remote company with teams located in Providence, RI and Portland, OR. The Digital Content Manager is a fully remote position, and while we would prefer someone located in, or near, the Providence or Portland areas, we will entertain candidates from other areas.
In this role, you will be responsible for:
Developing and executing a monthly content calendar designed to support brand and communications strategy.
Defining and owning Knack's digital content strategy across all non-cost-per-click channels.
Growing Knack brand recognition, community, traffic, and sales in accordance with Knack's overall brand strategy.
Creating and implementing 100% of Knack written and visual organic content.
Managing the day-to-day operations for our blog, email, SMS, Knack organic social media, 3rd party digital publishers (both affiliate and non-affiliate), influencers and traditional PR.
Using data to drive decisions, optimize content and content strategy and to ensure achievement of goals.
Forecasting growth for each channel based on historical data and industry trends.
Specific Responsibilities include:
Own the content calendar. Plan and execute ideas based on seasonality, merchandising availability, relevant topics, customer data and SEO strategy. Strong organizational skills a must.
Define, organize and write copy for the blog. Research ideas based on content strategy, write 4-5 posts per month and build them in Shopify admin.
Define, organize and write copy for all email and SMS communications.
Manage all marketing efforts on organic social media. Post content and interact with our social community in a timely manner by answering questions, asking for feedback or sparking meaningful conversations. Loop in the customer support team as necessary.
Aggressively identify, recruit, and onboard new external content publishers, large and small, across a variety of verticals and industries. This will include, but is not limited to, bloggers, writers, reviewers, Influencers, complimentary brand partnerships and any new channels identified.
Optimize and enhance existing content publishing partner productivity by creating customized non-promotional incentives, identifying new topics relevant to our brand and to publishers, and optimizing publisher content performance by identifying/creating Knack landing pages.
Help as needed with website content and copy.
Serve as editor-in-chief for all digital content to ensure quality, clarity and consistency.
Create visual content or manage visual content creators to ensure visuals are on brand.
Integrate SEO best practices into site content to boost qualified traffic.
Collaborate with other team members to optimize content so it can be maximized across multiple channels.
Bonus Skill Set
Luxury Brand Experience: Because we are a premium, non-discount brand, this position must have some familiarity with creating content and driving growth without using discounts, coupons or price promotions.
Experience
Required:
Bachelor's Degree in marketing, creative writing, or a related field (or equivalent experience)
2-4 years' experience in content creation for a fast-growing direct-to-consumer brand
Exceptional written communication skills
Experience managing external content creators
Focused, hard-working individual who thrives in a fast-paced environment, creating content quickly and efficiently
Self-starter, who is naturally driven to complete projects and meet KPI's and growth goals without hand-holding or micro-management
Ability to multi-task and prioritize an ever-changing workload
Experience quantifying ROI for content marketing efforts
Proficient in Adobe Suite, Microsoft Excel, Google Suite, and Google Analytics
Creative, energetic problem solver
Desired:
Photography or video skills
Graphic design skills
Retail sales background or understanding
Ability to understand HTML & CSS
Passion for bags (backpacks, handbags, travel bags, sport bags, etc)