The Expandable Backpack Difference
We've created a collection of expandable laptop backpacks that combine the function of an everyday work bag with the function of a carry-on travel bag in one unique backpack. With Knack, one bag provides endless possibilities.
Main everyday compartment with next-level organization
Separate, hidden, expandable suitcase compartment
Easy-access, protective laptop compartment
Lightweight, durable, water-resistant body fabrics
Lockable zippers and anti-microbial lining
The Compressible Shoe Bag Difference
Our Knack Compressible Shoe Bags for travel were designed to save space and keep your dirty shoes separate from your clean clothes. With external compression straps for cinching down and internal dividers to prevent scuffs, these bags optimize packing efficiency while protecting your belongings.
Keep shoes separate from clean clothes
External compression straps
Internal divider
Lightweight and durable fabric
The Packing Cube Difference
Optimize your packing space with our expandable packing cubes designed to save space in your Knack Pack. These travel packing cubes compress to save you 60% more space while also keeping you organized. Don't waste space, maximize it.
Zip-around expansion/compression feature
Designed specifically to fit in Knack Packs
Lightweight, durable body fabric
See-through mesh panels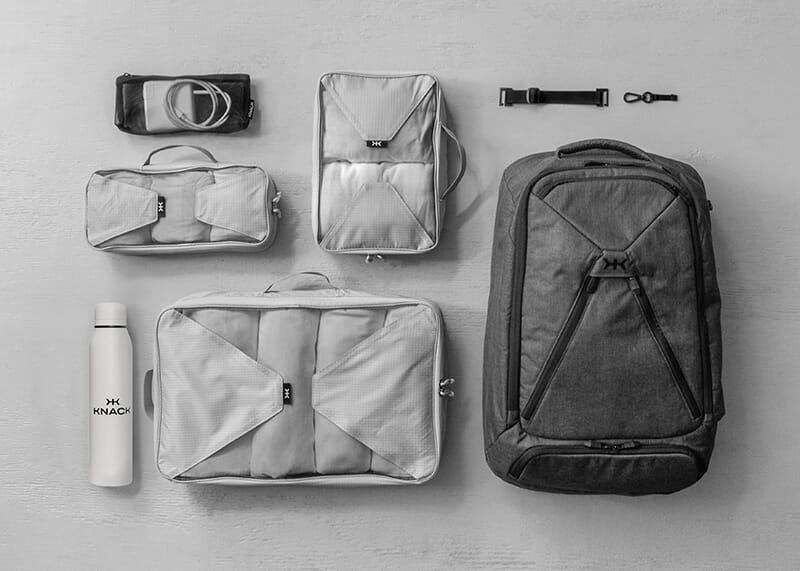 The Travel Accessories Difference
Whether you're traveling down the street or around the world, our Accessories Collection will make your journey easier. From space-saving Packing Cubes to our thirst-quenching Water Bottle, we've got everything you need to take your Knack to the next level.
The Travel Set Difference
We've bundled together our top-rated travel bags and accessories to help you stay organized and comfortable on the go, all while saving you money.
Knack's collection of patent-pending, expandable backpacks and thoughtfully-designed accessories helps modern professionals go from work to travel and back again with just one bag. With a focus on versatility, style, and function, Knack's One Bag Life mission provides the ability to do less carrying and more experiencing every day.
With Knack, one bag provides endless possibilities.